This post brought to you by ZzzQuil. All opinions are 100% mine.
Do you have trouble sleeping? As a mom, I rarely have trouble sleeping. My busy life with young children, a full time job, a business, plus a husband and the demands of the household, my days are full of activities and running around. Most nights I am probably asleep before my head hits my pillow. But, I do have those times when my brain runs non-stop, the ideas for my business, or the projects for the kids keep me up late. I find myself gradually working on less and less sleep.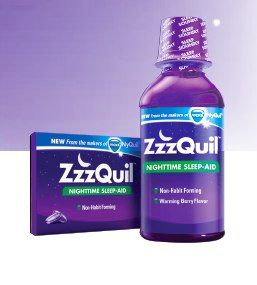 When I was offered to try the ZzzQuil sleep aid by Vicks NyQuil, I wasn't really sure I was the right candidate for the product. Like I said, I rarely had problems sleeping. But my sample came at the right time. I needed to take a couple of nights to get a full nights rest without the distractions of projects, and brainstorms that seemed to be taking over the few hours I had to sleep.
So, as any good product tester, I read the label. I was skeptical that this wasn't habit forming. I wanted to know exactly what I was getting myself into. Plus, I only recognized NyQuil as being for colds. ZzzQuil is not for colds. It helps you get to sleep faster and wake up feeling rested. The active ingredient is diphenhydramine which is supposed to help you fall asleep faster.
After long contemplation, I made sure I had a full 8+ hours to devote to testing this product. I forced myself to bed after taking the first night's dose. It tasted fine...it reminded me of the cough syrup I took as a child. It didn't taste bad, and thankfully the flavor didn't last too long. Within about 20 minutes I was asleep.
The next morning I woke just before my alarm, and had none of the fogginess that I had expected to have. In fact, I set my alarm about 30 minutes before the kids normally get up in case I needed some extra time and coffee to get going after taking the ZzzQuil. I didn't need that extra time. I felt fully rested and ready to tackle my day.
Needless to say, I was pleased with the results. The bold purple packaging doesn't set it too far apart from the NyQuil products you have probably heard of (or used), but it does promote restful sleep. I only took it the first night, and was so rested that I didn't take it the 2nd night. I didn't feel the need to take it again. So, I know it will come in handy when I hit another stretch of sleeplessness and need to fall asleep quick!
If you struggle with falling asleep or getting a restful nights sleep, but want to avoid the sleeping pills, try ZzzQuil for once in a while use to help you fall asleep. Be sure to check them out of Facebook or tweet your experience using #ZzzQuilNight.
So, tell me, do you have trouble sleeping? Share your ZzzQuil stories here too.
Katie